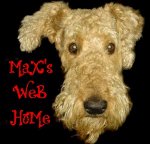 I am MAX an Airedale Terrier
I belong to the terrier family. I'm the largest of all Terriers. They called me the king of terriers - an
Airedale terrier, black and tan in colour.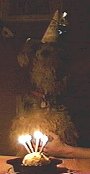 On 26 October1994 my real dog mama delivered a litter of three. It was a big event on the Embro's farm, Ontario, Canada (map) My mama named Liannes Ginger Spicey Nicki was 8 years old when she gave birth to me, my brother and to my sister. My father Silvervaley Big Angus, very handsome and brave fellow together with my warm, gentle and protective mama did created our success story.
I ma older each year but my story still continues!.